Canadian Military Hospital at Maria ad Fondes in Ootmarsum
After the liberation of Ootmarsum on April 4, 1945 a military hospital was set up by the Canadians in the monastery Maria Ad Fontes.
In this hospital are seven Canadian, three British, one Polish, one Belgian and one unidentified British or American soldier who deceased and were buried at the Kuiperberg in Ootmarsum. One Canadian was buried on the roadside at the Oostwal Ootmarsum.
The Canadian military Boucha, Camolese, Fallon, Ferguson, Hodder, MacLaren, McMillan, Warpula and the unknown soldier on April 10, 1946 transferred to the Canadian War Cemetery in Holten.
The three British soldiers Anderson, Bannon and Dye, the Polish military Lampert and Belgian military Devignez were transferred in March 1947 to the General Cemetery Jonkerbos in Nijmegen.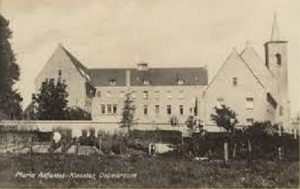 ---
---