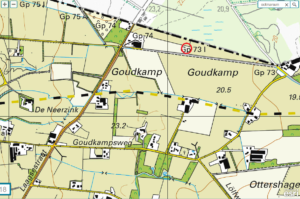 Complete crew from one plane, crashed on 29 July 1942 at the Goudkampsweg.
Vickers Wellington III – Z1650
Target was Hamburg
Departed on 28 July 1942 from RAF Basis Felton
Crashed on 29 July 1942 at the border from Netherland-Germany on the Goudkampsweg in Tubbergen.
In the night of 28 to 29 July 1942, after a fierce aerial battle, a Vicking Wellington fell exactly on the border of the Netherlands-Germany. The plot of land on which it happened lies at boundary post 73 on Goudkampsweg in Ootmarsum (municipality of Tubbergen). The machine drilled deep into the ground. All six crew members died. They were found severely maimed in and around the wreck.
They were buried in Lingen, Germany.
After the war they were transferred to the Reichswald Forest War Cemetery in Kleve.
Dean, Josiah Arthur – 31 years old
Flight Lieutenant (Pilot) – Service Nr. 110570 – RAF
Son of Edward and Margaret Dean, of Stratfort-upon-Avon, St. Helen
Daniels, Arthur – 20 years old
Flight Sergeant (Wireless Op./Air Gunner) – Service Nr. R/58211 – RCAF
Son of Isaac and Maude Maria Daniels, of Ganges, British Columbia, Canada
Dempsey, Philip Damon – 22 years old
Flight Sergeant (Wireless Operator/Air Gunner) – Service Nr. R/71782 – RCAF
Son of A. C. and Eva Dempsey, of Stratford, Ontario, Canada
Freysteinson, Harry Theodore Franklin – 20 years old
Flight Sergeant (Wireless Op./Air Gunner) – Service Nr. R/70881 – RCAF
Son of John and Sarah Freysteinson, of Church bridge, Saskatchewan, Canada
Fricker, William – 27 years old
Sergeant (Pilot) – Service Nr. 657403 – RAF
Son of Alfred and Eleanor Fricker
Husband of Beatrice Ann Fricker, of Keynsham, Somerset
Smith, James Edgar – 20 years old
Flight Sergeant (Air Observer) – Service Nr. R/74480 – RCAF
Son of Harold Irwin Smith and Mary Margaret (Ade) Smith, of Shawville, Province of Quebec, Canada