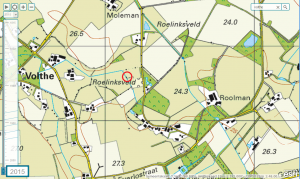 R.K. Begraafplaats in Rossum
51e Squadron – Royal (Canadian) Air Force
Part of a seven men crew of one aircraft, crashed on June 13, 1943 in Volthe.
Halifax Mk II – DT568 MH-F
Target Bochum.
Left at 23.34 h. from RAF Basis Snaith, Yorkshire.
Shot at 02.03 h. by Lt. Hans-Heinz Augenstein (7/NJG 1).
Crashed on June 13 at Volthe – Loosteresweg.
Buried on June 15, 1943 at the R.K. Begraafplaats in Rossum.
There were two more crewmembers: Arthur Trott and Charles Chambers.
Charles Chambers Sergeant (pilot) RNZAF – Service nr. NZ/416312
Born 11-07-1918 in Camerons, Greymouth. New-Zealand.
He survived the parachutejump. Afterwards he was captured and been held as a warprisoner (PoW nr. 42771) till the end of war. He was located at the German Stalag Luft 6 in Heydekrug, now Litouwen.
On the occasion of 75 years of Freedom, a memorial sign was unveiled at the crash place in March 2020.