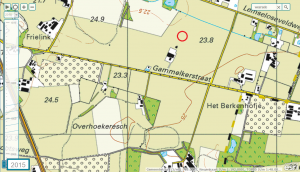 R.K. Begraafplaats in Weerselo
406e Squadron – Royal Canadian Air Force
Two men crew, crashed on March 23, 1945 in Gammelke – city of Weerselo.
Havilland DH, 98 Mosquito NF-Mk – MM740 HU-G
Night reconnaissance flight over Twente and Germany.
Shot at 22.15 h.
Crashed on the 23rd of March at Gammelke – between Gammelkerstraat and Lemseloseveldweg.
The machine was completely destroyed en the crew past away. The remains were dumped the next day by bystanders under command of the Germans in a 'cowpool' of Bosscha on the Gammelkerstraat. The pit was closed and made even with the ground.
Buried on March 27 at the R.K. Begraafplaats in Weerselo.
Remembered in the St George's Royal Air Force Chapel of Remembrance in Biggin Hill.
On the occasion of 75 years of Freedom, a memorial sign was unveiled at the crash place in March 2020.